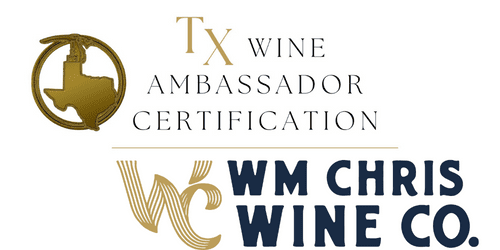 Cathy White, Founder of Wine Works Marketing, recently achieved the Texas Wine Ambassador Certification from the William Chris Wine Company.  This significant achievement demonstrates her commitment to advancing her knowledge and skills in the field of wine.
Continuing education and certification programs are crucial for professionals who want to stay relevant in their industry and keep up with the latest trends and developments.
In addition to pursuing wine education, Cathy regularly participates in seminars and a weekly mastermind session with like-minded professionals from across the US.  These endeavors provide her with new ideas, perspectives, and strategies that are used to stay competitive and ahead of the game.
The Texas Wine Ambassador Certification
The Texas Wine Ambassador Certification program is a comprehensive certification process that equips participants with the knowledge and skills to become effective advocates for the Texas wine industry.  The program covers various aspects of the industry, including the history, culture, and production process of winemaking, as well as the different varieties of wines, their origins, aromas, tastes, and proper food pairing.
One of the key objectives of the programs is to teach participants to regard and present Texas wine as an agricultural product, emphasizing its importance as a food item.  Participants also learn to understand wine as a cognitive-sensory experience, enabling them to make informed decisions about wine style, serving temperature, and food pairing.
Participants are taught to confidently respond to questions about Texas wine, including the challenges of growing wine in Texas.
The program aims to create future ambassadors of Texas wine by inspiring participants to champion the Texas wine industry and share their knowledge and passion with others.
Top of Form
Bottom of Form
How This Helps Our Clients
Completion of the Texas Wine Ambassador Certification can be of significant benefit to clients in the wine industry.  A deeper understanding of Texas wine and the industry can help marketing clients and prospects better understand the trends and opportunities in the growing wine industry in Texas.  This knowledge can enable them to make more informed decisions about marketing strategies, partnerships, and other initiatives that can help them grow their business and reach more customers.
How to obtain a Texas Wine Ambassador Certification
The William Chris Wine School is a partner and provider of various wine education programs and certifications.  Current courses include:
Texas Wine Ambassador Certification
WSET Approved Programme Provider
Learn more and register on their website:  https://www.williamchriswines.com/wine-education